THIS EVENT HAS BEEN POSTPONED - PLEASE CHECK BACK FOR UPDATES



2016 Cub Scout Leader Rockin' Pow Wow - Saturday, January 30th - 8am to 3:30pm Badin Elementary in Badin, NC - Learn tips to have Jammin' unit events and make your packs ROCK!!! 

Registration Begins: 1/8/2016 
Last Day to Register: 1/28/2016 
Cost: $30.00 per Participant 
Late fee: After 1/23/2016 a fee of $5.00 will apply.

Click Here to Register
Event Timeline/Course Descriptions
Light Breakfast - Opening Ceremony - 

8:30am-9am
Session 1 -9:00-9:45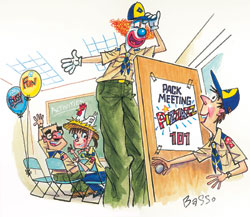 Leader-Specific Training - online training available for any leaders who have 

not yet taken it.  Live trainers on-hand to offer live support as well

What is JTE?  -  A comprehensive review of the JTE scorecard and recommended ways to reach Gold
Recruiting New Leaders - It's never too early to identify and start training your replacement.  It brings continuity and longevity to a Pack, but the new leader is more likely to succeed. 
Online Advacement/Service Project Recording - Show how easy it is to record advancements online with the use of the classroom smartboard or laptop.  Periodic advancement is a great way to reward the Scouts on their progress and basic advancement emblems are free!
Advanced Training - Why should you BALOO?  Learn more about the importance and benefits of BALOO, Outdoor Leader Skills, WoodBadge, Powderhorn and other great learning opportunities available throughout the year.
Bear Claws, Whittling Chip & Knife Safely - suggestions for effectively 

teaching this Bear/Webelos achivement including communication with adult partners, suggested knives, and teaching plans

Meeting Fillers- small crafts, activities , gathering events and general meeting time fillers that are fun and easy to do when things don't go quite as you planned
Local Outings and Tour Forms - Identify for leaders 2-3 destinations in each District that are free/low cost and offer Scouts a chance to earn achievement requirements and have fun as a Pack.  
Beyond the Badge - Religious Emblems, Outdoor Ethics and other awards - Teaching leaders about some of the extra awards available in Cub Scouting, their value, and how to incorporate them into your Scouting year.
Cub Scout Science - Use Cub Scout curiousity to learn more about science.  Hands-on activities and experiments.  Learn all about the STEM-Nova programs.
Session 

3 - 11:00

 - 

11:45
Council Events & Outdoor Facilities

 - A review of the annual events the Council offers for Cub Scouts and how they can be a good resource to leaders, including information about Camp John J. Barnhardt and other Boy Scout camping areas in the Council. 

Outdoor games - great games Scouts can play outdoors when they need a wiggle break or to meet achievements that are fun but controllable
Songs, Skits & Run-On's - teaching the importance of this Scouting tradition, the hidden skills it teaches Scouts and ways to use them to make all Scouts feel included
Intro to Camping - Teach why it is important to get boys and their families outdoors.  Review camping essentials for Cub Scouts.  Review camping etiquette and the importance of BALOO training.
Outdoor Cooking & Campfires  aka "Lords of Heavy Metal"  - Ideas for tasty, easy dinners you can cook with your Cubs, and how to plan and execute the campfire later that night.
Lunch (in the form of a Blue & Gold Banquet) - 

12:00-1:00

 - also time to visit on-site Scout Store for leader literature
Finances in the Pack

 - Organizing suggestions that are quick, easy, and sustainable to allow a Pack to keep clear and accurate historical records and financial reports for the unit.

Basic First-Aid - basic first aid every leader should know and what should be on hand at every meeting and outing.
Youth Recruitment and Retention - Beyond flyers and handouts - ways to keep your pack growing.
All Means All- How to help Scouts with learning, health and behavioral challenges - including identification, interaction and communication/cooperation with the Scout's adult partner.  Learn how to include Cub Scouts with special needs while making it safe and fun for all.
What About Webelos? Helping Scouts (and their parents) make the transition into Webelos from the perspective of a Boy Scout Leader.

  
Session 5 - 

2:15-3:00pm

 - These will be Roundtable sessions designed to bring like-minded leaders together to discuss topics and share ideas specific to your rank.
Tiger Cub Den Leader Roundtable
Wolf Den Leader Roundtable
Bear Den Leader Roundtable
Webelos Den Leader Roundtable
Cubmaster Roundtable
Wrap-Up/Closing Ceremony - 

3:10pm-3:30pm